Head Instructor and Owner Mick Williams:
Mick is a black Belt under James Clingerman in Brazilian Jiu-Jitsu. Mick is also an Associate Instructor in Filipino Martial Arts and Jun Fan Gung Fu, under Bruce Lee Protege, Dan Inosanto. He received a Representative Certification, under Erik Paulson, in Combat Submission Wrestling. Mick also holds Black Belts in Tae Kwon Do, Hapkido and Modern Arnis.  During Mick's 20 plus years of martial arts experience he has also become well versed in Thai Boxing, Pentjak Silat, submission wrestling, and Jeet Kune Do.
Mick has competed in MMA, submission grappling, and Brazilian Jiu-Jitsu.  He has metaled in the Extreme Grappling Open, the Hoosier Open, and the IBJJF No-Gi Pan-Am Championships.
MMA and Wrestling Coach Nick Armstrong: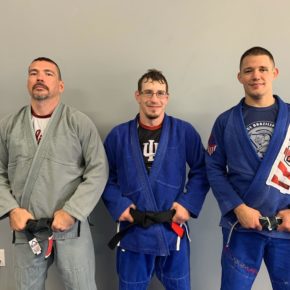 Nick is a black belt under James Clingerman and Mick Williams, he has trained in MMA for several years. Nick is a multi-time gold medal winner in Brazilian Jiu-Jitsu and Indiana State High School wrestling champion.